So fresh you'll think you caught it yourself.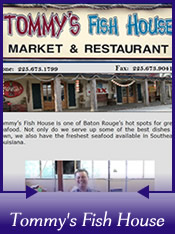 Tommy's opened in late 2008 in the bustling Prairieville area at the end of Perkin's road right outside of Baton Rouge. They offer very high quality boiled seafood and poboys as well as a variety of market seafood for you to take home.

There is seating in Tommy's seafood for around 60 people. It's very casual and you walk up to the market counters to place orders and pickup food. They have 5 beers on tap, a variety of bottles and of course soft drinks.

When I visited Tommy's I had some of the best boiled shrimp I've had in a long time. I sat and watched the NCAA regional baseball tournament and enjoyed a nice cold beer. The staff was extremely friendly and Tommy himself walked over to talk with me and give me a few pointers on peeling my shrimp. It's a very friendly place and it shows in how busy they were and how many regulars they seem to have already picked up. I'm sure they'll be a part of our community for a long time.

Update 2014: Tommy's is still awesome. If you're looking for a great shrimp and grits that is New Orleans style this is probably one of the best in Baton Rouge.





Contact and/or Location Info:

37306 Perkins Rd
Baton Rouge, LA 70769
(225) 673-1799
See Location On A Map


Website Available: Tommy's Fish House
Best of Baton Rouge Category: Louisiana Style, Creole and Cajun Restaurants


Originally posted 05/30/2009 by Wayne Odom





View Larger Map
See Detailed Google Map