Fresh Louisiana Seafood Market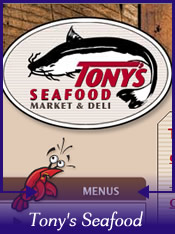 This is that place local's will all tell you to go to for the real deal in Louisiana style seafood and cajun creations. Tony's has been supplying mass quantities of seafood to the Baton Rouge area for around 40 years. No order is too large or small here. They're a market and a deli so come in and check out the great menu. Boudin balls, gumbo, boiled seafood. I've heard many people tell me many times their favorite cajun food comes from Tony's.

When you walk in to Tony's it really is a marketing. Lots of counters line the back walls of this high ceiling building. A huge tank filled with water for managing their fresh live seafood to the right. A line to a cafeteria style line filled with choices for fresh prepared food for lunch. It's a really fast moving market that'll excite you on what you see going on. They've built a huge reputation as the best in Baton Rouge in regards to seafood and it shows.

Get the boudin balls here. They are absolutely awesome. I can eat them until I get sick!





Contact and/or Location Info:

5215 Plank Rd
Baton Rouge, LA 70805
(225) 355-2127
See Location On A Map


Website Available: Tony's Seafood
Best of Baton Rouge Category: Louisiana Style, Creole and Cajun Restaurants


Originally posted 12/21/2008 by Wayne Odom





View Larger Map
See Detailed Google Map