Great seafood, lunch specials and service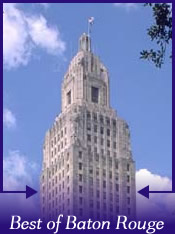 Well Uncle O indeed moved again! This time they've opened a larger restaurant on Sherwood Forest Blvd. Great cajun food that's extremely popular with the locals. Some of the best poboys, gumbos, soups and lunch specials for my taste. If you're looking for the place where all the local people eat then Uncle O's is the palce for you.

For those who don't know about Uncle O's it was an excellent restaurant that closed doors as a full time restaurant in 2008 so that Uncle O could explore other ventures. Well I was happily suprised to see the return of Uncle O to this area of Baton Rouge in 2009. In 2012 Uncle O closed his small "Uncle O's to Go" to reopen Uncle O's Cafe on Sherwood Forest.





Contact and/or Location Info:

3410 S Sherwood Forest Blvd
Baton Rouge, LA 70816
(225) 751-1325
Best of Baton Rouge Category: Louisiana Style, Creole and Cajun Restaurants


Originally posted 02/15/2007 by Wayne Odom





" target="_blank">See Detailed Google Map