Fresh Louisiana Style Seafood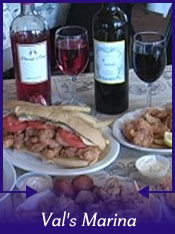 Recently I realized I didn't have Val's on Best of Baton Rouge and I was shocked. As a kid this was the restaurant I waited all year to go to because it's where our parents had our Christmas party for our business in Gonzales. It was so fantastic and so good to me I savored every bit of the seafood platter I would get.

Well apparently Val's got big in to marketing themselves online so when I came upon a half off deal for Val's I thought heck yeah that's something I'm buying! I've been to Val's in the last 5 years and it was excellent as ever.

Take the very scenic drive from Baton Rouge out to Maurepas and you'll find Val's on a rolling strech of Highway 22. It's really a nice scenic drive that I would recommend taking people from out of state on during the day. Rolling through some nice old wooded areas, swamps and rivers right next to the road. It's a slow 45 minutes from Baton Rouge that passes rather quickly if that makes sense.

So I took my Bargain Bee coupon and loaded up my daughter for a drive out to Val's to enjoy some lunch. They have a wide variety of seafood platters of all sizes and combinations, poboys and specials. I went with the Crab Trap for $22. For this you get a simple fresh salad, an excellent seafood gumbo(truly tasty) and a wide variety of crab treats. Fried soft shell crab, crab bisque, stuffed crab, crab fingers and some crab balls. On the top of hush puppies and fries of course. Too much food to eat for sure but man you'll try your hardes.

For over 50 years serving local and surrounding communities with nothing but the freshest seafood. They also have a nice bar I could see from the dining room and I believe they sell some groceries as well. It's literally a landing as you'll see there's a boat landing right there and you have a beautiful view of the river. They're online now so you can see pictures on their Facebook page. Check it out and you'll be back! Worth the drive.





Contact and/or Location Info:

21162 Hwy 22
Baton Rouge, LA 70449
(225) 695-6538
See Location On A Map


Website Available: Val's Marina
Best of Baton Rouge Category: Louisiana Style, Creole and Cajun Restaurants


Originally posted 03/06/2011 by Wayne Odom





View Larger Map
See Detailed Google Map