Excellent New Orleans Style Grill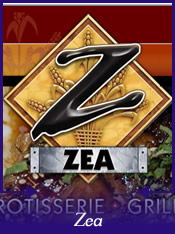 All you can really say about Zea is fantastic. They've got one of the biggest and best tastes to come to Baton Rouge in some time. Situated in the excellent Town Center shopping center their restaurant more than worth the visit. Lots of open space, beautiful design and a great bar.

The food is unbelievable. I've only been there twice but their lunch specials beat out the entrees of most. Steak, seafood, chicken, awesome salads and a great array of sides. Go look at the menu for yourself.

One nice tough that I love is that Zea serves their own bottles of Heiner Brau which is an awesome German style microbrewery from outside of New Orleans in Covington.





Contact and/or Location Info:

2380 Towne Center Blvd. Suite C
Baton Rouge, LA 70806
(225) 927-9917
See Location On A Map


Website Available: Zea Rotisserie Grill
Best of Baton Rouge Category: Louisiana Style, Creole and Cajun Restaurants


Originally posted 05/27/2009 by Wayne Odom





View Larger Map
See Detailed Google Map