More Cheesecake Than You Can Imagine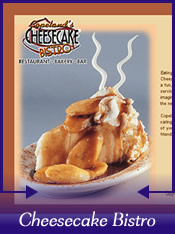 This restaurant is a must visit in Baton Rouge. One of the great creations from the famous Al Copeland. This Bistro serves up a dizzying array of the most fantastic cheesecake creations of any place I've ever been. Truly edible works of art that will stimulate your senses to no end.

In addition to their great desserts the food is fantastic. A wide variety of bistro signature dishes, Louisiana seafood creations, pizzas, sandwiches, salads, seafood and more. I had a blackened redfish dish here that was so good it was all I could think about for a week.





Contact and/or Location Info:

6171 Bluebonnet Boulevard
Baton Rouge, LA 70836
(225)761-1110
See Location On A Map


Website Available: Cheesecake Bistro
Best of Baton Rouge Category: Baton Rouge Restaurants


Originally posted 05/04/2008 by Wayne Odom





View Larger Map
See Detailed Google Map