Home of great hot dogs and polish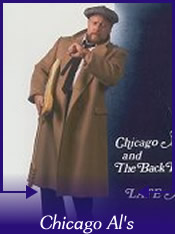 I remember the first time I heard about Chicago Al's from Walton and Johnson on the radio. I was working just off of Old Hammond and heard Al talking to W&J. I thought man I need to go check this place out. To my suprise I drive up to a small hotdog "shack". When I left I'd had the best hotdog I've ever had.

Chicago Al's serves up gourmet hotdogs. Fully loaded treats that will tantalize your taste buds. He also has a Polish dog thats absolutely wonderful. All this out of a little drive through right on O'Neal lanes.

Suggestion: Call Al's and place a phone order for pickup.





Contact and/or Location Info:

670 Oneal Ln
Baton Rouge, LA 70816
(225) 275-1966
See Location On A Map

Best of Baton Rouge Category: Baton Rouge Restaurants


Originally posted 02/25/2007 by Wayne Odom





View Larger Map
See Detailed Google Map