Delicious Slow Smoked Meats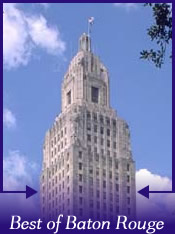 After long hearing people mention the excellent bbq you could get at Cou-Yon's in Port Allen I finally took the drive. It's not particularly far away and in fact was a quick drive of 10 minutes start to finish down I-10 from my office on Essen. Yeah you have to cross the bridge but no big deal as long as it's not after 2pm. Well the buzz was right and I've found my new source for my bbq fix.

Located on the main drag in Port Allen you'll find Cou-Yon's. A small restaurant with seating for around 40 or so with a counter where you order your food and then they bring it out to you. Choices are a nice array of chopped beef, lean or moist brisket, chicken, turkey, spare ribs, sausage, stuffed potatoes, sandwiches salads, desserts and sides. For me the combo plates were where it's at and I orderd the three meat plate for $10.49 which is at the same rate you'll see at other places in town.

However unlike other places in town what was put in front of me was a huge amount of bbq. I ordered chicken, ribs and the moist brisket(never had moist brisket before). The taste and texture of the food was outstanding. It also came with 2 sides and 2 pieces of toast which were also very good. Everything was perfect and reminded me of a plate you'd fix at a big family bbq on memorial day. Really really good.

In addition to the food the restaurant itself was really nice. They've apparently recently remodeled because all the seating was new, the flat screens on all the walls were new and it seems like a new coat of paint and well thought out decorating. For a bbq place it was very nice. Additionally they've got video poker in Port Allen which I'd forgotten all about. There's a small bar to the side with 3 bar stools, 3 stools in front of poker machines and a TV. It looked pretty inviting but I had to head back to work. Don't worry though I'll be going back really soon and you should check it out.





Contact and/or Location Info:

470 North Alexander Avenue
Baton Rouge, LA 70767
(225) 383-3227
See Location On A Map


Website Available: Cou-Yon's Cajun Bar-B-Q
Best of Baton Rouge Category: Baton Rouge Restaurants


Originally posted 07/21/2010 by Wayne Odom





View Larger Map
See Detailed Google Map