Australian Themed Restaurant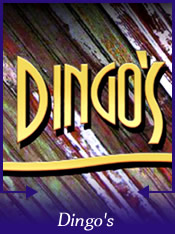 This all new restaurant for 2009 opened near the corner of Coursey and Sherwood Forest. The owner Patrick Muller came to Baton Rouge by way of Perth, Australia. They completely revamped the Semolina's building in to a very trendy & cool Aussie themed establishment. When you walk in it's a very open layout. On a sunny day the many windows let in a lot of natural light. There are a number of square tables as well as a handful of booths. The kitchen area is setup in a way so that you can see what's going on in the kitchen but a huge sheet of glass keeps it seperate.

They offer a creative list of dishes to choose from. Burgers, paninis, salads, pastas and a few other cool creative dishes. They have the full menu listed on their website below.

Dingo's recently moved to the Hickory Ridge area. They're located off of Jones Creek in the Shenandoah Country Club.





Contact and/or Location Info:

15253 Shenandoah Ave
Baton Rouge, LA 70817
(225) 756-7495
See Location On A Map

Best of Baton Rouge Category: Baton Rouge Restaurants


Originally posted 06/14/2009 by Wayne Odom





View Larger Map
See Detailed Google Map