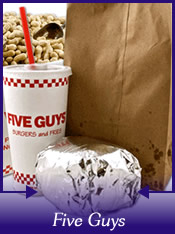 I was very curious to try this place because half the people who told me about it told me it was awesome while the others told me it wasn't that great. Strange because people don't usually fall 50% divided unless it's politics. I walked in really not knowing what to expect. The location they've got is one of the very nice units over in Towne Center between Zea's and Books A Million. To me this is one of the more pleasing new locations in town so walking up was very promising. Walking in I quickly realized this wasn't a grill such as Mason's, Riverside Patty or even Griffin Grill. This place is a professionally run turn-key fast food restaurant.

The menu is burgers, little burgers, hot dogs, fries and that's about it. I ordered a little cheeseburger and small fry for $7. I drink water which is free but you should also note drinks are $2! My order was out lightning fast and very hot which was shocking until I realized they started cranking food out when they saw people walking up from the parking lot. The place is popular and they're just slinging out the burgers.

The burger was very good. It came wrapped closed in foil with the fries overfilled thrown in to a paper bag. It was hot and the ingredients tasted very fresh. The fries were good peanut oil fried and fairly good. It occurred to me that this place is essentially what Burger King, McDonalds, etc would be if they actually ran their operations like their commercials say they do.

Five Guys was good and in the event I decide I want fast food I'll be going there.





Contact and/or Location Info:

2380 Towne Center Blvd
Baton Rouge, LA 70806
(225) 372-2586
See Location On A Map


Website Available: Five Guys
Best of Baton Rouge Category: Baton Rouge Restaurants


Originally posted 02/18/2011 by Wayne Odom





View Larger Map
See Detailed Google Map