The absolute best pizza in town.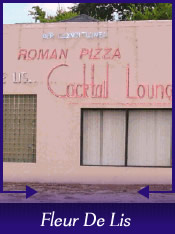 Truly one of the most delicious things you can experience here is their pizza. It's the only thing on the menu and you will keep coming back. They serve up square pizzas with excellent fresh ingredients made from scratch. No doubt the absolute best pizza in Baton Rouge.

When you see the restaurant you won't believe it. It's a small 50 year old pink building on Government Street with old style neon lettering. When you walk in it's a really old style place with a bar in the middle. It's very charming really.

One great thing is that you can call an order in before you go to eat there. Great if you want to enjoy their food for lunch.





Contact and/or Location Info:

5655 Government Street
Baton Rouge, LA 70806
(225) 924-2904
See Location On A Map


Website Available: Fleur De Lis Pizza
Best of Baton Rouge Category: Baton Rouge Restaurants


Originally posted 12/23/2007 by Wayne Odom





View Larger Map
See Detailed Google Map