Taco de Paco
de Paco is Delicious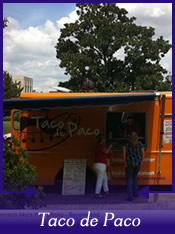 I didn't really know what to expect when I finally ran down Taco de Paco. I've seen their Facebook and Twitter updates for weeks since adding them to my likes. Like many of the other food trucks in town they've started gaining a legion of followers looking for them wherever they go. With some of the tasty looking pictures I've seen it was time to go hunt them down and see what it was all about. Today I caught up with them parked outside the University of Phoenix on Acadian Thruway.
I was seriously impressed with how furious a pace they were keeping inside the truck. Three guys working as fast as possible slinging tacos, taking orders and whatever else was going on in there. The menu was simple written outside on a board; You have the choice of a taco meal or burrito meal in the 4-5 styles of the day they have lined up. I know the whole concept is taco which typically points to Mexican but for me it was more culinary creation. One of the tacos I had was sort of a zesty Thai flavor over pulled pork while the other was Southwestern beef. Another they're serving this evening is described as this on their Facebook page: "Roasted Duck Glazed with Louisiana Sugar Cane, topped with Sweet Potato Hash, and finished off with homemade Peach Preserves". Seriously? That's not your standard mindless Mexican it's innovation.
Taco de Paco like many of the new food trucks in town is a strong new addition to the Baton Rouge food scene. I seriously suggest you like their
facebook page
and check them out when you get a chance.
Contact and/or Location Info:
Location Varies
Baton Rouge, LA 70810
(206) 600-4934
Website Available:
Taco de Paco
Best of Baton Rouge Category:
Food Trucks
Originally posted 04/27/2011 by Wayne Odom