Frozen Yogurt, Snacks and Sandwiches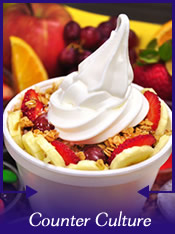 I was a little curious when I walked in because it wasn't what I've come to expect from yogurt shops. However actually researching when writing this blog I see that they were originally known for their frozen yogurt before doing breakfast, lunch and dinner. That makes sense especially for the location in South East Baton Rouge which is right next to a technical college. They're in a perfect location to serve up food and treats for the hungry students.

The location is in the huge business area/park on Airline highway that holds ITT, Pimanyoli's, Black and Gold store, Purple and Gold Store, a japanese restaurant, a Subway and a few other things. It's a beautiful shopping center and a very pleasent place to stop in. It was around 3pm and there were several groups of people at Counter Culture. They definitely seem to see busy

The yogurt is all served by the staff. They have 2 soft serve machines with 3 flavors(I think). The menu has build your own and then something called "The Humphery" which I had to order based on the name alone. It's their tart and tangy yogurt with grapes, strawberry, banana, granola and honey. An excellent treat much like a parfait that really did my wife and I right. great stuff.

Foodwise I noticed a breakfast menu, sandwiches, salads and other treats in addition to the yogurt. They offer a full breakfast, lunch and dinner. I've also read at Facebook on several occasions people talking about their sandwiches so they must be good. I'll definitely be stopping by to give that a try some time.





Contact and/or Location Info:

14111 Airline Hwy # 127
Baton Rouge, LA 70817
(225) 218-4293
See Location On A Map

Best of Baton Rouge Category: Baton Rouge Frozen Yogurt Shops


Originally posted 05/28/2011 by Wayne Odom





View Larger Map
See Detailed Google Map