Frozen Yogurt For Baton Rouge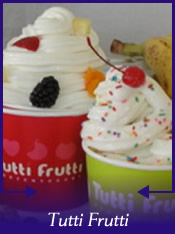 Tutti Frutti got to be the first frozen yogurt shop I've gone to in over a decade. It'd had never really been my thing before for no good reason other than there probably wasn't one in a convenient location at the right time. So when I got their email suggesting it was time to add a "fro-yo" category to Best of Baton Rouge I decided they would be first.

It's a great location next to Mansurs on the Boulevard on Corporate. A nice strip of shops with good parking and location. Walking in you immediately notice the long wall with 6 bays each holding a frozen self serve yogurt machine. A nice young lady walked me down and explained how everything worked. I was particularly interested in how they have a self service pour, self service toppings and pay by weight model which was new for me. I selected a mix of strawberry and chocolate yogurt and grabbed a couple of fresh berry toppings from the dozens available.

The stuff was great. It was a very tart and very fresh tasting treat. The berry toppings were very fresh chopped and really popped with the yogurt. The staff explained that the yogurt was actually very low calorie and after some quick math I realized that for less than 200 calories I was getting all the sweet fix I needed. I'll definitely be going back with the family for some yogurt treats.

Just as an after thought to the article. They post their current flavors regularly on their Facebook Page so check it out to see if your favorites are on tap.





Contact and/or Location Info:

5720 Corporate Blvd. Suite B
Baton Rouge, LA 70808
(225)231-9438
See Location On A Map


Website Available: Tutti Frutti Frozen Yogurt
Best of Baton Rouge Category: Baton Rouge Frozen Yogurt Shops


Originally posted 05/10/2011 by Wayne Odom





View Larger Map
See Detailed Google Map