Excellent poboys, sandwiches and more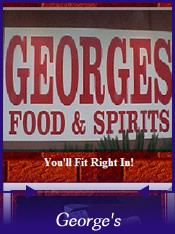 With four locations spread across town Georges serves up absolutely excellent Poboys, sandwiches, and more from their wonderful grill. They have been around as long as I can remember and I always love going to eat or enjoy a beer. Their ribeye sandwich is absolutely excellent!

George's definitely could be called Baton Rouge's best corner bar. I list the George O'Neal location but there are four. See website for details.





Contact and/or Location Info:

15321 George O Neal Rd
Baton Rouge, LA 70817
(225)755-5700
See Location On A Map


Website Available: George's Restaurants
Best of Baton Rouge Category: Baton Rouge Restaurants


Originally posted 01/22/2008 by Wayne Odom





View Larger Map
See Detailed Google Map