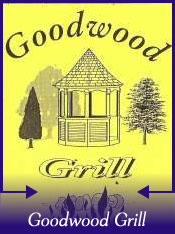 While visiting a friend who had a baby at Woman's hospital I was naturally asking what's for lunch. One of the ladies visiting instantly perked up and talked about how good the food was at Goodwood Grill right across the street. I figured if it had good in the name it had to be good so the wife and I went over to check it out. If the number of people in a place is any indication walking in then it was very promising because the place was packed at 11am.

The menu was a lot of your Southern favorites. Seafood baskets and poboys, red beans and rice, burgers, salads, low carb wraps, sandwiches, etc. The special was the hamburger steak so my wife had that while I was in a red beans and rice sort of mood.

Placing an order was quick and the food came out very fast especially considering the number of people there. They obviously gear for speed because the crowd was probably 95% work crowd. We even saw the doctor who delivered our baby there. Foodwise we found it very satisfying. My wife said she'd definitely stop in again to get the hamburger steak if she was in the area. I liked my red beans very much. It was a lightly seasoned but well cooked meal topped with very sweet and spicy sausage. Both meals were served with a very fresh salad. for $20 with drinks we were very happy. The men sitting at a table behind us talked about how good their sandwiches which always makes for good affirmation that a place is doing things right. I'd definitely suggest anyone looking for lunch in the area of Woman's hospital check them out.





Contact and/or Location Info:

8558 Goodwood Boulevard
Baton Rouge, LA 70806
(225)927-7550
See Location On A Map

Best of Baton Rouge Category: Baton Rouge Restaurants


Originally posted 08/04/2010 by Wayne Odom





View Larger Map
See Detailed Google Map