Great Burgers in Dutchtown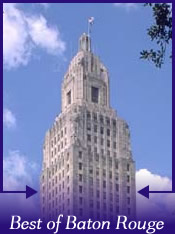 If you find yourself exiting in Dutchtown/Prairieville this is where it's at for a great big juicy hamburger. Using the recipes from their families 50 years in the burger joint business these folks make some of the best hamburgers, roast beef and fries you'll find in the Baton Rouge area. It's actually pretty much the same stuff you'll find at Burger Delight on Airline because they're the same family.

When my wife and I want a hamburger fix we don't waste our time any place else we go straight to the Griffin Grill. Great big burgers and crispy fries. You will need to go take a nap after this!





Contact and/or Location Info:

36519 Oak Plz # F
Baton Rouge, LA 70769
(225) 677-5382
See Location On A Map

Best of Baton Rouge Category: Baton Rouge Restaurants


Originally posted 08/26/2010 by Wayne Odom





View Larger Map
See Detailed Google Map