Louis DeAngelo's
Casual Italian Dining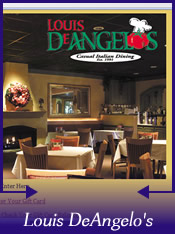 This popular Italian spot has locations all over the Baton Rouge area. Always a great choice if you crave good Italian food at a reasonable price in a casual environment. I really enjoy the calzones. There are several others you can see
here
. All of the restaurants feature the same menu, a family atmosphere and reasonable prices. For me it's all about enjoying the whole wheat calzones when I go. They're really flavorful and well put together.
Because they're so well placed all over the Baton Rouge area I find myself often stopping by Deangelos. Very conveniently available in Denham Springs and Prairieville as well. They've done a great job of establishing themselves within the community.
Contact and/or Location Info:
13686 Coursey Blvd.
Baton Rouge, LA 70817
(225) 756-0977
See Location On A Map
Website Available:
DeAngelo's Casual Italian Dining
Best of Baton Rouge Category:
Italian Restaurants
Originally posted 03/16/2008 by Wayne Odom

View Larger Map
See Detailed Google Map