Where mama still does the cooking.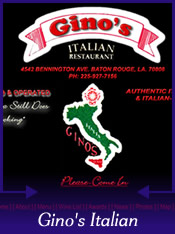 Gino's Restaurant has been a staple of the Baton Rouge restaurant community since it's establishment in 1966.(still family owned & operated) They've got a warm & cozy low lit atmosphere that lends to the romantic. Very beautiful and perfect for a romantic night out. Thursday is Jazz night where you can experience the best jazz in the area from local, national and international jazz artists.

The food is excellent and has won a number of awards. A wide variety of authentic Italian dishes many of which I've never heard of at other Italian restaurants. My wife and I very much enjoyed our visit. The staff is courteous and professional as you'd expect from an upscale long established restaurant.

Wine lovers don't worry. Their wine list is long and completely capable of satisfying your tastes.





Contact and/or Location Info:

4542 Bennington Ave
Baton Rouge, LA 70808
(225)927-7156
See Location On A Map


Website Available: Gino's Italian Restaurant
Best of Baton Rouge Category: Italian Restaurants


Originally posted 05/30/2009 by Wayne Odom





View Larger Map
See Detailed Google Map