Italian Catering and Deli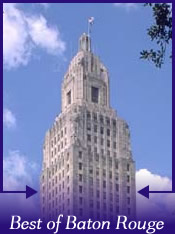 Maggio's Delicatessen and Catering is located in a snug little spot on Old Hammond Highway. In fact when I passed it I had to turn around and then I wasn't really sure it was a restaurant because it's got limited parking in the back that's hard to see because it's covered with trees, shrubs and other plants that some landscapers were working hard on. Really beautiful view actually once you're inside the restaurant.

Walking in I was in a small deli area with a glass case holding some freshly created meatballs, lasagna and other treats I couldn't identify. I heard a bunch of work going on in the back where Mark and his help were busily working on the days offerings. Mark came out and took my order and talked to me a while. He recognized that he'd never seen me before and told me about his 30 years in the business as well as his last restaurant. Several other customers came in while I waited on my food most of which were regulars from the past some on their first visit back since he started a retail shop again. All were very excited about him being back and talked happily about the food.

I ordered the half muffuletta sandwich and a drink which cost me less than $10. The bread was very soft and it was stacked full of meats with the olive mixture topping. It was a great sandwich which I happily had looking out the windows towards Old Hammond Highway. A great meal that I very much enjoyed and I'll be going back to try some of those meatballs I saw in the counter. They looked excellent.

They of course offer catering as well. Check out the website link below as they've done a good job of putting all their information online.





Contact and/or Location Info:

14110 Old Hammond Hwy
Baton Rouge, LA 70816
(225) 806-3259
See Location On A Map

Best of Baton Rouge Category: Italian Restaurants


Originally posted 09/01/2010 by Wayne Odom





View Larger Map
See Detailed Google Map