Successful without taking credit cards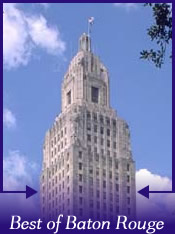 If there's one thing that underlines success it's when you can NOT take credit cards and still be busy every day and in Baton Rouge for decades. Pocorello's is like that little Italian deli you see on TV. You walk in to see Pokie(owner) every single day talking with all his regular customers, watching the news, talking politics and local happenings. It's just instantly like you walked in to a home kitchen.

The food is outstanding. Easily best muffaletta in town, great sandwiches, authentic pastas and other things I can't spell. Try everything. Personally I like the meatball poboy and tell them to add eggplant but make sure you have time to take a nap!

Pocorello's also has a cool deli with some meats you won't find elsewhere. They've a frozen section with homemade lasagnas, sauces and other dishes. They also make party trays which I hear are totally outstanding!

Great place celebrating 40 years in town.





Contact and/or Location Info:

12240 Coursey Blvd
Baton Rouge, LA 70816
(225) 293-3737
See Location On A Map

Best of Baton Rouge Category: Italian Restaurants


Originally posted 04/08/2010 by Wayne Odom





View Larger Map
See Detailed Google Map