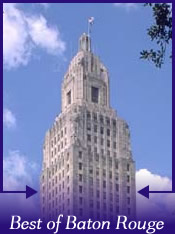 My wife and I had talked about going here for a while but never had the chance. It doesn't look like much being a little spot in a strip mall in Prairieville but once you've walked in and been greeted by the owner you get a sense that this place is good.

Omar was a very friendly guy who greeted us warmly, happily answered our questions and took down our order. I'm glad he was so nice because my wife was worried due to the poor looking conditions of the place. It's a mom and pop no doubt with second hand tables and chairs with very little decour. However as we waited for our chicken and artichoke pizza I became very comfortable after watching Omar hand out take out orders to others. He would open the box and proudly present the pizza to whomever was picking it up. His expression was almost that of pride in every pizza he sold while we waited.

Our table was delivered hot and beautiful to our table. It was by far the most fantastic pizza I'd had in a while. Perfectly cooked, quality ingredients and just right in every way. Definitely the best New York style pie you'll find in town.

I will definitely be back here. Before leaving we spoke with Omar and he tells us a quote from the Starbuck's CEO: "I'm not in the pizza business serving people, but in the people business serving pizza". Based on the reviews on Urbanspoon for his business and my experience it's definitely true.





Contact and/or Location Info:

17188 Airline Hwy # L
Baton Rouge, LA 70769
(225) 673-8695
See Location On A Map


Website Available: Roma Pizza Prairieville
Best of Baton Rouge Category: Italian Restaurants


Originally posted 06/11/2012 by Wayne Odom





View Larger Map
See Detailed Google Map