Best place to order pizza & calzones from in town.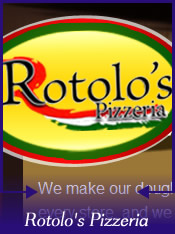 I first came across Rotolo's when I moved to near LSU. Everyone orders from this place for their great deals and great tastes. Where else can you get a great tasting hot calzone for $4?

Well after college I moved to the Shenandoah area and was happy to see there's another over here. The Coursey Blvd location also has great specials($6 spaghetti & meatballs on Sunday) and the same great pizza and calzones.

Order their large pepperoni as it's absolutely wonderful. I list the Coursey information here but go to their website for the LSU or out of town locations.





Contact and/or Location Info:

11903 Coursey Blvd.
Baton Rouge, LA 70816
(225)368-1999
See Location On A Map


Website Available: Rotolo's Pizzeria
Best of Baton Rouge Category: Italian Restaurants


Originally posted 03/18/2007 by Wayne Odom





View Larger Map
See Detailed Google Map