Definitely One of The Best Wine and Dine Italian Experiences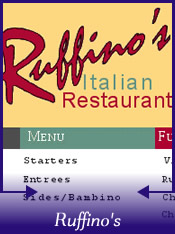 Ruffino's can definitely be considered the best Italian dining experience in Baton Rouge. The establishment is huge and the parking lot is packed full most every night of the week. Despite the large crowds the staff still gives you one of the best dining experience in town. They're attentive, knowledgable and they stay on top of whats important to you.

The food was absolutely wonderful and doesn't disappoint in either taste or presentation. I had an eggplant parmesan dish that was terrific and my girlfriend declares their flat noodles pasta dish to be her favorite ever.

Ruffino's is the perfect choice for a intimate date, family party or business meeting. They've got several private rooms for your private functions and an intimate dining atmosphere thats great for a date. The establishment is so large its able to accomodate any dining needs.

Best Baton Rouge Steaks

A large number of people will argue heatedly that the best steaks in the area are right here at Ruffino's. After hearing this several times I decided I had to try it myself. Our server recommended the prime rib and told us about the great reputation Ruffino's has for their prime rib. It was 100% deserved. Easily one of the best steaks I've ever had in Baton Rouge.





Contact and/or Location Info:

18811 Highland Rd
Baton Rouge, LA 70809
(225) 753-3458
See Location On A Map


Website Available: Ruffino's Italian Restaurant
Best of Baton Rouge Category: Italian Restaurants


Originally posted 01/21/2007 by Wayne Odom





View Larger Map
See Detailed Google Map