Big Italian taste in downtown Baton Rouge.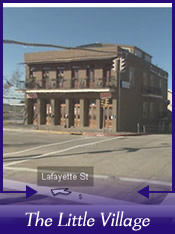 This great upscale Italian restaurant in downtown is a rebirth of an old Baton Rouge favorite. It opened in recent years in downtown Baton Rouge where there is almost no fine dining. It's turned out to be a big hit now as we had to make reservations to get a seat there on a Friday night.

It's situated a block off of the Mississippi on the corner of Lafayette & Main Streets in the old 19th century brick building that also hosts "The Vault"(formerly The Thirsty Tiger). It's a great easy to find location that's pretty romantic as far as downtown Baton Rouge is concerned.

The atmosphere was low lit and very comfortable. The staff was right on top of everything and we were very happy with the service. The bartenders are the best as every drink served was absolutely wonderful. The evidence of this was in my wife loving her martinis as she's usually a serious critic.

Foodwise it was very good. If you're big on a rich marinara sauce you'll love this place. My veal parmesan was a very satisfying dish. Honestly they have some of the best bread I've every had which killed my appetite. When the waiter asks if you'd like it the answer is definitely yes.

Price wasn't bad at all. If you're a non-drinker you can expect to spend around $30 a person while drinkers can easily double that price. It's not that the drinks are any more expensive than the next restaurant, they're just good.





Contact and/or Location Info:

453 Lafayette St
Baton Rouge, LA 70801
(225) 218-6685
See Location On A Map


Website Available: The Little Village
Best of Baton Rouge Category: Italian Restaurants


Originally posted 10/06/2008 by Wayne Odom





View Larger Map
See Detailed Google Map