Contemporary Atmosphere, Great Food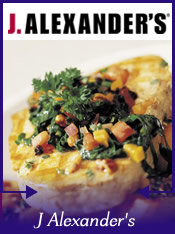 This is a great restaurant that's part of a franchise chain with locations all over the country. The food is great, the service is outstanding and the atmosphere is very comfy. The food holds it's own in Louisiana which as we all know is famous for it's outstanding flavor. I had a pecan trout that was just outstanding and my wife thought her steak was great. Additionally they have a great selection of wines that compliment their menu very well.

I don't list many chain restaurants at Best of Baton Rouge and J Alexander's deserves a spot hands down. Great for a fancy date or business meeting. Great location right next to the Mall of Louisiana with easy access to other entertainment amenities in Baton Rouge.





Contact and/or Location Info:

6457 Bluebonnet Boulevard
Baton Rouge, LA 70836
(225) 766-8630
See Location On A Map


Website Available: J. Alexander's
Best of Baton Rouge Category: Baton Rouge Restaurants


Originally posted 05/03/2010 by Wayne Odom





View Larger Map
See Detailed Google Map