Japanese Cuisinse, Vietnamese Cuisine, Sushi bar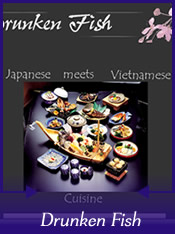 Fairly unique in Baton Rouge they offer a very nice combined menu of Japanese and Vietnamese cuisine. Located right at the South gates of LSU it's become a big hit in Baton Rouge and it's well deserved. First walking in it's a really nice restaurant. They've got a really cool purple and gold theme going on with some really nice artwork drawn and hanging in the restaurant. Two saltwater fish tanks are a very nice touch. It's very open and the kitchen isn't seperated from the dining area by anything but a counter so you can see and smell everything going on which is pretty cool

I went in looking to try some Vietnamese food. However I was very impressed at the wide variety of dishes available on the menu. Sushi, Vermicelli noodles, specialty rolls, vegetarian food and of course the protein soup bowls which I was looking to try. I tried out the beef pho which is sort of a spicy broth over noodles. It was extremely tasty and came with a side of spices that could be added for flavor. It was a very satisfying meal and at a great price.

I thought the service was great. I observed the staff working and they were really on top of things. Better than average for sure. It was a nice atmosphere and I'll definitely be going back.





Contact and/or Location Info:

4410 Highland Road
Baton Rouge, LA 70808
(225) 248-6391
See Location On A Map


Website Available: Drunken Fish
Best of Baton Rouge Category: Sushi and Japanese


Originally posted 07/15/2010 by Wayne Odom





View Larger Map
See Detailed Google Map