Ichiban Sushi and Japanese Grill
Serving up fresh sushi and more.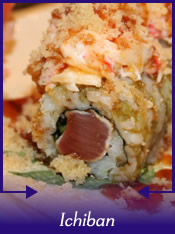 Ichiban has been a big hit in Baton Rouge from the day it opened. They serve up a great array of Japanese style dishes, sushi and hibachi in a casual but cool atmosphere. They're probably one of the best if not the best Japanese places in town. I know without a doubt the have the best Miso soup in town.
Contact and/or Location Info:
5741 Essen Lane
Baton Rouge, LA 70810
(225)767-2288
See Location On A Map
Website Available:
Ichiban Sushi and Japanese Grill
Best of Baton Rouge Category:
Sushi and Japanese
Originally posted 02/06/2008 by Wayne Odom

View Larger Map
See Detailed Google Map