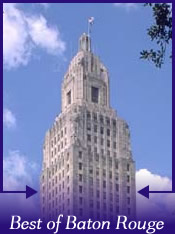 It's funny how you'll stumble in to a pretty good unheard of place while looking for some other place. I was over by LSU looking for Koi who's parking lot was blocked by a truck when I noticed the sign for Kaminari across the street. Located in the new shopping centers built at the corner of State and Highland it's in a thriving area full of fairly new businesses.

I was a little nervous at first being the first customer at 11:10am but people must be on a strict 11:30 schedule because the place quickly filled up. It's a really nice place with great tables, chairs and very open windows. The staff was very friendly and professional.

Japanese buffet is something I have to stumble in to. It's not something I look for. To the left is a long table of fresh made sushi rolls and to the back there's a made to order hibachi section. All you can eat for $9 at the time I visited which was an awesome deal.

I personally prefer sushi so I loaded up on around a dozen and a half different type rolls. I thought the sushi was very good especially given the price. However I noted that most of the people who came in did the made to order Hibachi. Essentially you go pick what you want, they cook it up and place it on the bar for you to pick up. The waitress asked why I didn't try it as well. So definitely going back for the Hibachi!





Contact and/or Location Info:

3260 Highland Rd
Baton Rouge, LA 70802
(225) 383-0999
See Location On A Map


Website Available: Kaminari Hibachi and Sushi
Best of Baton Rouge Category: Sushi and Japanese


Originally posted 06/14/2011 by Wayne Odom





View Larger Map
See Detailed Google Map