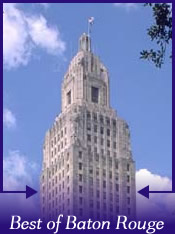 You have to give it to the food populace of LSU they like to vote on their restaurants. Typically I'll go through Urbanspoon and see what restaurants I've not visited yet in the top 100. This week I noticed Koi and as a big sushi fan I jumped on the opportunity to try another new to me place. Koi has been there for years now but I never noticed it because I don't typically head over to LSU for sushi. LSU students have noticed it though and they're letting people know about it online.

Since beginning to write Best of Baton Rouge I've become a bit of a sushi lunch box expert for the city of Baton Rouge. Typically I can't say that "I got more food than I could eat" when talking about a Japanese restaurant's lunch special but for once I can. Koi's sushi bento box was excellent food, huge portions and only cost me $10.80. The sushi pieces were nice chunks of very fresh fish, the rice was very tasty and the wasabi salad dressing was refreshing. It was a great meal and I really want to go back for dinner.

The staff was very polite and attentive. I was very happy all around. I did feel a little old as I was certainly the oldest customer by a decade but hey it is right by LSU. Koi is a good place and I'll definitely be going back.





Contact and/or Location Info:

217 E State St
Baton Rouge, LA 70802
See Location On A Map

Best of Baton Rouge Category: Sushi and Japanese


Originally posted 06/24/2011 by Wayne Odom





View Larger Map
See Detailed Google Map