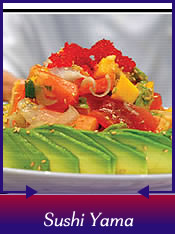 My experience with Sushi Yamia has been nothing short of excellent. Their chirachi lunch box can easily be considered one of the best in the city. It comes with a miso soup that's quite tasty. It includes green onion which is a must for me but is left out at some places. There's also a cucumber salad which goes a step beyond most places by including some crab which I'd never had before. Really good. For the sushi itself in addition to a fine variety of very good sushi they also include a shitake mushroom that's been sauteed in fish stock with other sauces. An outstandingly tasty touch I've never experienced at any other sushi restaurant. Then as you're sitting there thinking "wow that was a lunch portion" one of the chefs sits in front of you a small slice of very juicy pineapple for a light dessert.

The atmosphere was quite nice and open. The restaurant itself is simple a large rectangular room with high ceilings. Big windows face the outside world but enough tint/shading is there so it's not too bright inside. Seating is a number of tables in the dining area and around a dozen more private booths on either side.

I think this restaurant is great and will definitely be going back often. Sushi Yama is now part of my Baton Rouge sushi rotation.





Contact and/or Location Info:

7731 Perkins Rd
Baton Rouge, LA 70810
(225) 767-8880
See Location On A Map


Website Available: Sushi Yama
Best of Baton Rouge Category: Sushi and Japanese


Originally posted 04/20/2010 by Wayne Odom





View Larger Map
See Detailed Google Map