Good Japanese Food, Great Bar And The Best View Of Downtown Baton Rouge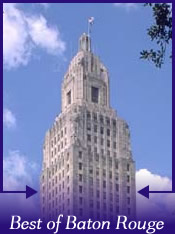 Tsunami is a fairly new style restaurant situated on the top floor of the Shaw Center for the Arts. It's of modern design with alot of glass and shiny metal which make it very modern beautiful. The restaurant overlooks all of downtown, the Mississippi river and river road providing the best view of Baton Rouge you can get.


The food is a treat both in presentation and taste. Truly edible art.

Tuesday Night Suggestion

I had an excellent time starting at Tsunami on a Tuesday evening watching the sun go down with sushi and drinks. When it got dark we went down to Happy's Irish Pub for half off pints. good stuff.

Nice Weather

If the weather is nice and you enjoy being outside then consider Tsunami on a good weather day. Sitting out on their outside area overlooking the city is wonderful on a pretty day.





Contact and/or Location Info:

100 Lafayette St
Baton Rouge, LA 70801
(225) 346-5100
See Location On A Map


Website Available: Tsunami's Sushi Restaurant
Best of Baton Rouge Category: Sushi and Japanese


Originally posted 01/22/2007 by Wayne Odom





View Larger Map
See Detailed Google Map