Excellent Japanese Restaurant Experience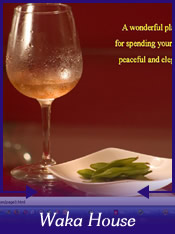 In a modern styled decor filled atmosphere Waka house is a very popular new place for sushi in Baton Rouge. Many people talk to me and tell me for them this is where it's at for the best sushi in Baton Rouge. The owners and staff are extremely helpful and friendly for those looking for advice on the menu and the food is excellent. It's a Japanese dining experience that'll make you feel like you're at home. It's very small and has about 8-10 tables.

I probably had one of the best sushi lunch boxes here that I've ever had. The sushi was really good but what made it great was the salad, miso, fried rice and mini grilled kabobs that came with it. I really enjoyed it.

One really cool thing was that they have a very detailed menu with tons of PICTURES detailing what their dishes are.





Contact and/or Location Info:

4625 S. Sherwood Forest Blvd
Baton Rouge, LA 70816
See Location On A Map


Website Available: Waka House
Best of Baton Rouge Category: Sushi and Japanese


Originally posted 10/29/2008 by Wayne Odom





View Larger Map
See Detailed Google Map