Restaurant and oyster bar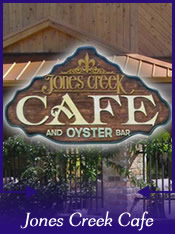 This South East Baton Rouge restaurant serves their own variety of Louisiana style cuisine and atmosphere. Some of my favorites are the grilled trout, the seafood gumbo and the shrimp and corn soup. The seafood stuffed potato is also very good.

Atmosphere variety is very broad at Jones Creek. You can choose from their casual dining area, the oyster bar area or a very nice outside patio. Occasionally they have live acoustic music on the patio.





Contact and/or Location Info:

15005 Market St
Baton Rouge, LA 70817
(225) 755-3550
See Location On A Map


Website Available: Jones Creek Cafe
Best of Baton Rouge Category: Baton Rouge Restaurants


Originally posted 10/10/2008 by Wayne Odom





View Larger Map
See Detailed Google Map