Fresh Southwestern Flavors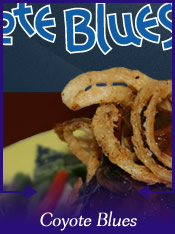 I like to put emphasis on the Fresh Southwestern part of their description because to me this is very different from any Mexican style restaurants I've had around Baton Rouge. Based out of Lafayette Louisiana they've opened a beautiful location on Acadian Thruway. There's a nice bar, beautiful restaurant and great outside seating area. The atmosphere is extremely upbeat and fast moving. I had my first visit a week or so ago after my co-worker talked tons about the Lafayette location since they've opened the Baton Rouge location.

It was different.

The menu has obvious Mexican roots and lots of twists that sound very Southwest United States. They've got around 10 different fajita selections including Kobe beef and Quail which I've never seen on a menu before. Their own take on things such as Chimichangas, tacos, burritos and burgers are also available. Things that pop out to me on the dinner menu are the smoked ribs, Loco Tuna and Churrascaria. The menu is really extensive and available on their website at the link below.

I probably ordered poorly because it came off the lunch menu and I can't wait to come back. I had a pick three with a taco, enchilada and tamale. It was a pretty decent selection but I'd say I need to go back for the more unique creations. A good restaurant and it's pretty clear why they've become so popular. Looking forward to going back.





Contact and/or Location Info:

2450 S Acadian Thruway
Baton Rouge, LA 70808
(225)329-2055
See Location On A Map


Website Available: Coyote Blues
Best of Baton Rouge Category: Mexican Restaurants


Originally posted 06/27/2010 by Wayne Odom





View Larger Map
See Detailed Google Map