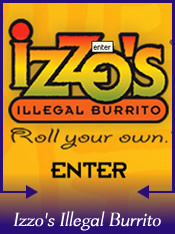 This Mexican style Baton Rouge restaurant has it's roots over by LSU. Opening in the late 1990's it was a big hit with college students and has now spread all over South Louisiana. They have an awesome "build your own" approach where you walk down an assembly line of ingredients and tell their burrito builders what to put on yours. Really great food, great prices and they have a nice atmosphere.

Every time I go I have one of their trademark burritos. You basically get what looks like a foil cylinder which you peel back as you go eating the burrito inside. My wife goes more for their "burrito in a bowl" or quesadillas. The burrito in a bowl is everything that's in the burrito but with chips sprinkled in it instead of a burrito cover.

Izzo's is a quick place to get a little better than Taco Bell but not quite a full blown Mexican experience. They do server beers and in fact the Bluebonnet location has a very nice patio to stit outside. They're good places.





Contact and/or Location Info:

4250 Burbank Dr
Baton Rouge, LA 70808
(225) 214-0870
See Location On A Map


Website Available: Izzo's Illegal Burrito
Best of Baton Rouge Category: Mexican Restaurants


Originally posted 08/22/2009 by Wayne Odom





View Larger Map
See Detailed Google Map