Mexican Grill and Cantina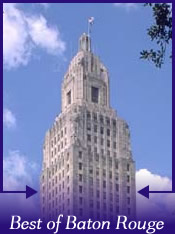 Mi Padres is a nice Mexican restaurant serving up some pretty good standard mexican dishes. Their food has really good taste and they make their own tortillas which makes it one of my personal favorite places to go eat. I suggest you order them a la carte with a side of queso for dipping. Two locations with one on Bluebonnet and the other on Airline in Prairieville.

My wife loves this place and declares it by far her favorite place. Their beef fajitas are very good and the home made tortillas really add to it. Additionally they provide a lot of extras with their fajitas that you might not get at other restaurants.

In 2012 we figured out this place has about the best chicken soup we've ever had. If you have a cold or just want homemade soup in Baton Rouge this is the best place. We get it from the Prairieville location.





Contact and/or Location Info:

7730 Bluebonnet Blvd.
Baton Rouge, LA 70810
(225)757-7800

Website Available: Mi Padres
Best of Baton Rouge Category: Mexican Restaurants


Originally posted 08/19/2007 by Wayne Odom





See Detailed Google Map