Excellent Mexican Cuisine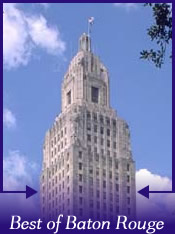 One of our favorite Mexican spots in town you'll get great food in a cozy environment with low lighting. Great for a date or a birthday party they won't disappoint. The food is excellent and I've never left unhappy.

They're known for their great margaritas. The bar area is a little cramped but the bar is long and there is an outdoors area. It gets crowded so consider showing up early and planning on staying late.

Year after year I've always gotten great service here. It's one of those restaurants that'll likely always be around because they're always doing it well.

On my last visit we shared their fajitas. You're going to get more food for your money here than most places in town and of very high quality. The steak fajitas were excellent. We really enjoyed their style of queso.





Contact and/or Location Info:

4738 Constitution Ave.
Baton Rouge, LA 70808
(225) 924-0377
See Location On A Map

Best of Baton Rouge Category: Mexican Restaurants


Originally posted 02/17/2009 by Wayne Odom





View Larger Map
See Detailed Google Map