Great Margaritas and Mexican Cuisine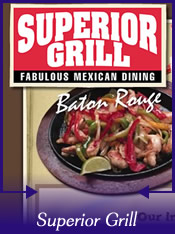 Superior is probably one of the most popular restaurants in town. The food is very good and their margaritas are some of the best.

Thursdays are a big night at Superior. Lots of people go there after work and enjoy live music and drinks.

You're not going to find a more professional staff in a Mexican style restaurant than here. As of 2012 they're an excellent place to go either in a group or with a family of small children. The attention to detail and fast service are great. The food is excellent. We frequent Superior more and more lately.





Contact and/or Location Info:

5435 Government St
Baton Rouge, LA 70806
(225)927-2022
See Location On A Map


Website Available: Superior Grill
Best of Baton Rouge Category: Mexican Restaurants


Originally posted 08/19/2007 by Wayne Odom





View Larger Map
See Detailed Google Map