Relaxed, Comfortable Atmosphere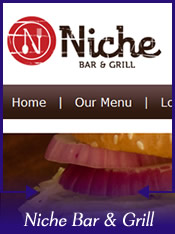 Newly opened in Jne of 2010 this bar and grill is in a convenient location on Siegen lane in South East Baton Rouge. The menu is fairly extensive with a good assortment of salads, pastas, fish, poboys, steaks and a kids menu. Just about anyone can find something interesting on the menu and it has a bit of a Mediterranean twist with things like Gelato, Baklava, humus and Tabouleh salad on the menu.

I stopped by this past Thursday to see what it was all about. They'd done a great job of branding themselves with a cool sign, great logos and building a big new patio out front. I walked in and found a very eager and smiling wait staff which is always a big plus walking in to a new place. I sat at the bar and a really nice bartender served me a Stella Artois and gave me a menu.

Foodwise it was very nice for my first experience. I ordered their meal of the day which was a seafood diablo pasta. It was very well made and full of flavor. Big chunks of tomato and nice looking big seafood. The sides were very tasty and everything had a very "fresh" taste to it. Great job.

I thought Niche was a very cool place. Anyone who has to head down Siegen in the evening might find them a welcome stop for happy hour. The Stella Artois I had was $3 on happy hour which will make me a regular if it holds up.





Contact and/or Location Info:

6606 Siegen Lane
Baton Rouge, LA 70809
(225)300-4916
See Location On A Map


Website Available: Niche Bar and Grill
Best of Baton Rouge Category: Baton Rouge Restaurants


Originally posted 07/10/2010 by Wayne Odom





View Larger Map
See Detailed Google Map