Soups, Salads, Sandwiches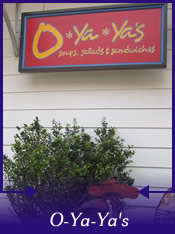 O-Ya-Ya's is a delightful little soup, salad and sandwich restaurant hidden away on a small street between Airline Highway and Jefferson highway. My first visit to O-Ya-Ya's happened when I was actually looking to visit GO-Ya-Ya's which is O-Ya-Ya's food truck service which specializes in gourment crepes. We don't get many crepes in town so I was really looking forward to it. I was pleasently suprised to find that O-Ya-Ya's existed hidden away behind a beautiful old house converted in to a interiors and gift store called The Courtyard. They actually have a beautiful Courtyard right between O-Ya-Ya's and the store where you can dine and enjoy beautiful weather.

The food is really excellent. My wife and I had a couple of GO-Ya-Ya's crepes while at O-Ya-Ya's.(little confusing I know) But let me tell you the food was absolutely outstanding. Fresh ingredients, excellent presentation and obvious great care in what they were doing. I had one called "The Cuban" which was savory pork and ham with cheese, mustard and pickles wrapped up in two delicious crepes.

O-Ya-Ya's is a actual small restaurant with a counter and a couple of tables in addition to the outdoor Courtyard. GO-Ya-Ya's is a food truck that travels around town and can easily be followed via Twitter and Facebook. I'll be listing it in it's own post here at Best of Baton Rouge. Courtyard gifts is a beautiful store I'll also be listing here. My wife absolutely loved it declaring it her new favorite place to eat lunch and shop in Baton Rouge.





Contact and/or Location Info:

4467 Arnold Lane
Baton Rouge, LA 70809
(225) 292-8973
See Location On A Map

Best of Baton Rouge Category: Baton Rouge Restaurants


Originally posted 04/10/2011 by Wayne Odom





View Larger Map
See Detailed Google Map