BBQ, Grilled and Smoked Heaven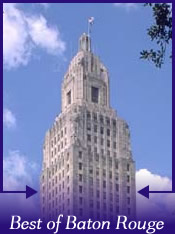 This is an outstanding restaurant which is truly underrated in the Baton Rouge restaurant scene. You're not going to find better baby back ribs anywhere around here. In fact I didn't have better when I spent 4 days in Memphis eating nothing but BBQ ribs. They're great and even though they've only had their restaurant open for a few years they've got decades of experience producing quality product from their catering side of the business.

The restaurant is really well decorated and quite cozy. Situation in the new "The Crossing" center it's a perfect stop in for anyone in South East Baton Rouge or Prairieville. Walking in there's a bar to your left and all the seating is dark wood tables and chairs like you'd put in your own dining area. The walls are well decorated with art around the culture of Louisiana and the lighting is very well done so that the whole room relaxes you.

On my visit I tried the 3 rib plate which was an excellent deal at $7.95. It came with two sides and a really nice Texas toast. The ribs I can't say enough about. The spices just burst in your mouth and the meat peeled perfect off the bones. Their baked beans are the best I've ever had in Baton Rouge.

Go to this place!





Contact and/or Location Info:

14241 Airline Highway, Suite 105
Baton Rouge, LA 70801
(225) 751-7590
See Location On A Map

Best of Baton Rouge Category: Baton Rouge Restaurants


Originally posted 05/14/2010 by Wayne Odom





View Larger Map
See Detailed Google Map