Fresh Fried Chicken Fingers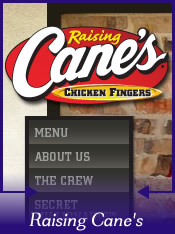 Probably the only fast food chain I'll ever list on this website is Raising Cane's. Todd Graves has proven himself to be a modern day Al Copeland becoming what I can only describe as the "Chicken Finger King" of LSU and quite possibly the USA. They have stores all over the United States with 50+ Locations.

Their focus is simple in that they do one thing and they do it extremely well. Fresh and never frozen chicken fingers and their signature Cane's sauce. Their lemonade is outstanding, their toast is excellent and their fries aren't bad either. I think they were personally responsible for putting 10 pounds on me in College since their Lee drive location was right next to my apartment.

We should all be proud of Cane's and Grave's. If you read their story you'll know their plan was pretty much hated on at LSU by their professors but they stuck with it and made it work. Cheers to them!





Contact and/or Location Info:

202 W Lee Dr
Baton Rouge, LA 70808
(225) 769-0750
See Location On A Map


Website Available: Raising Cane's Chicken Fingers
Best of Baton Rouge Category: Baton Rouge Restaurants


Originally posted 05/19/2010 by Wayne Odom





View Larger Map
See Detailed Google Map