Some of the Best Burgers In Town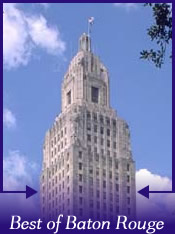 For me this great burger joint is definitely in the top 3 for burgers. They've stayed in business by reputation only because if you don't know about them you can't find them. The Siegen location has apparently been there for years and I had yet to try Riverside Patty because it's hard for me to get downtown. However many Baton Rouge residents will tell you this is the best burger in town.

They do about a dozen takes on the classic American hamburger. There are other things on the menu but during my visit I didn't see one person not order a burger so that's defnitely where it's at. The restaurant itself is a little run down joint and exactly what you'd expect out of a straight up grill. They take your order, give you a number, the grill smell overruns the dining area and you wait a while. So all the reviews I've read about the long wait are true however I'd point out to those people that Riverside Patty tells you flat out on their website that you're going to wait. They make them good not fast.(can't have both)

The burger itself is excellent. 1/2 pound burgers on soft and tasty buns. Lettuce, tomato, onion, pickles, mustand and mayo. The outside of the burger is very crispy from the grill wall the inside is soft and juicy. It's a picture perfect burger. Are they the very best in town? Hard to say but they have a darn good argument. If I weren't so attached to the place in Prairieville I grew up on I might quickly say yes.

Great burgers but don't go if you're in a hurry. Need at least an hour and half to get there and back from work.

My contact info below is for the location on Siegen. I've been told the experience at the downtown location is identical.





Contact and/or Location Info:

10933 Cloverland Ave
Baton Rouge, LA 70809
(225) 291-9414
See Location On A Map


Website Available: Riverside Patty
Best of Baton Rouge Category: Baton Rouge Restaurants


Originally posted 03/02/2011 by Wayne Odom





View Larger Map
See Detailed Google Map