Serving fine Lebanese for 30 years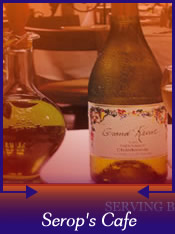 Probably one of my favorite places to order some truly tasty Lebanese creations. A complete menu of all your favorite Mediterranean foods. I love the Gyro pitas. Multiple locations but I list my favorite. Check their website for more.

The Serop's Express locations are my favorite places to catch a quick meal. They must have 20+ side dishes to choose from and for some reason I love their gyro pita sandwiches much more than the regular Serop's Cafe. Keep in mind that Serop's Cafe and Serop's Express are different concepts. Serop's Express has a sitdown but it's cafeteria style in you pick from some pre-cooked food. Serop's Cafe is cook to order, sitdown.





Contact and/or Location Info:

7474 Corporate Blvd # 307
Baton Rouge, LA 70809
(225)201-8100
See Location On A Map


Website Available: Serop's Lebanese Cafe
Best of Baton Rouge Category: Baton Rouge Restaurants


Originally posted 02/29/2008 by Wayne Odom





View Larger Map
See Detailed Google Map