Authentic Philadelphia Cheese Steaks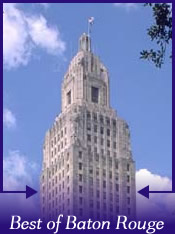 South of Philly offers the authentic cheese steak experience. With fresh sliced ribeye and imported Amoroso's rolls from Philly. I'd heard about this restaurant for over a month over and over again. All the steak lovers out there in Baton Rouge were talking about South Of Philly. Without realizing it I'd missed that I had mentioned it to my wife several times so she had me swing in and pick one up.

It was the most impressive philly I've ever had in Baton Rouge

The buzz was right on South of Philly. The sandwich wasn't too greasy and so tasty. The bread was as good as advertised. Since we had the sandwich my wife always wants to go back for another. The price on the sandwich was very fair too! Go get yours.





Contact and/or Location Info:

4353 S. Sherwood Forest Blvd.
Baton Rouge, LA 70816
(225) 291-1003
See Location On A Map


Website Available: South Of Philly
Best of Baton Rouge Category: Baton Rouge Restaurants


Originally posted 03/14/2010 by Wayne Odom





View Larger Map
See Detailed Google Map