Choice cuts of meat for over 60 years.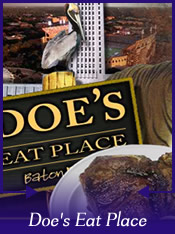 Doe's specializes in high end cuts of steak. They serve choice cuts of steak from their Government street location. Many will tell you they serve a good steak and it's a great place to get a steak around downtown. I'm a little embarrassed to admit it took me too long to go to Doe's. When we finally visited them we quickly found a new favorite place to get my steak fix. I had good reason for taking so long because until about a year ago I didn't even know they existed. However as I've found they've been quietly serving great steaks to a good group of locals for years now.

The steaks are served by the pound and you're likely to at least order 1.5lbs of steak. In our case we're a big fan of bone-in ribeyes so we went with Doe's 2lb to see how they stacked up. It was served with a choice of fries or red potatoes and a basket of fried biscuits that were a like big beignets and very tasty. We ordered macaroni as a side since my wife's such a big fan of it she should have stock in Velveta. It came out cooked perfectly medium and a little well so there was no red and a little pink.

Our steak was easily as good as those served at the big fancy steakhouses around town. Excellent taste and very enjoyable but in a really casual atmosphere. For me the availability of great food in a casual atmosphere is a rare and valuable thing. I'd much rather a friendly waitstaff over the well oiled over the top atmosphere created at other well known high end chain steakhouses. My wife talked about how she's definitely sending her dad Doe's way since he loves steak but hates anything non-casual.







Contact and/or Location Info:

3723 Government Street
Baton Rouge, LA 70806
(225)387-5331
See Location On A Map


Website Available: Doe's Eat Place
Best of Baton Rouge Category: Steakhouses


Originally posted 07/17/2010 by Wayne Odom





View Larger Map
See Detailed Google Map