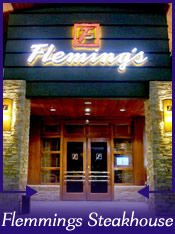 Here at Best of Baton Rouge we don't list chains unless they deliver truly exceptional service to our community. Flemmings is one of the finest places you can dine in the city of Baton Rouge. They're focused on delivering the best in steakhouse experiences. Fine food, wine and first class service. Located on Corporate this restaurant is right near many of the best places for Baton Rouge nightlife and shopping. A perfct place to start or end a night.

My wife and I were given a $150 wedding gift certificate for Flemmings. We spent the evening enjoying their absolutely excellent service and food. I've never had so many waitstaff focused on our needs. It was perfect. Their rib eye steak was the best I've ever had.

As of 2014 this is still my favorite steak experience in Baton Rouge. My wife and I took advantage of one of the $25 cards they give out regularly and went by in 2013. We loved the experience again. Top level service, creative drinks that made her happy and absolutely wonderful food.





Contact and/or Location Info:

7321 Corporate Blvd
Baton Rouge, LA 70809
(225)925-2710
See Location On A Map


Website Available: Flemmings Steakhouse Baton Rouge
Best of Baton Rouge Category: Steakhouses


Originally posted 09/14/2008 by Wayne Odom





View Larger Map
See Detailed Google Map