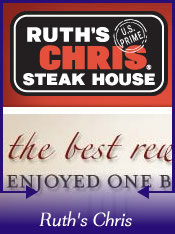 I first visited Ruth's Chris steakhouse for my anniversary. My first impression was that it's a very cozy and upscale atmosphere with an English country club sort of feel. The greeting staff was very professional and very kind. They bid us happy anniversary and showed us to a great table in the back.

Service was incredible. I've never seen so many staff covering a room. We wanted for nothing the entire time and at two different times managers asked us about our time. It was great.

Food was excellent. We had the Cowboy ribeye which was a monster bone-in steak with lots of taste. The sides were great quality and quite tasty. I had a Louisiana turtle soup that was excellent.

Their wine list was very healthy. I requested a Zinfandel which our waiter informed me wasn't good. He asked me what I wanted and he made a suggestion of a Shiraz that turned out to be exactly what I wanted.

Great place and I'll be back.





Contact and/or Location Info:

4836 Constitution Ave
Baton Rouge, LA 70808
(225) 925-0163
See Location On A Map


Website Available: Ruth's Chris Baton Rouge
Best of Baton Rouge Category: Steakhouses


Originally posted 04/15/2009 by Wayne Odom





View Larger Map
See Detailed Google Map