Good Hamburgers, Decent Food & Great Daily Drink Special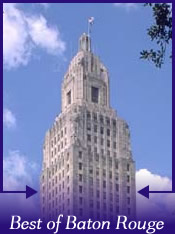 The Times has quickly become one of our favorite places to go sit at the bar and hang out. It's a very new establishment and they feature a menu of "World Famous Hamburgers". The food is ok but what's really great to me about this place is the awesome daily drink specials.

2 for 1 taps, wells and domestic bottled beer every day from 3-7 is an absolutely great deal. My friends and I often go there for appetizers and drinks after work. Its very rare that any of us spend over $12 each. You're not going to find a better drink special in town.

The bar area is really nice and probably takes up 30% of the restaurant. There are large 42 inch flat screen televisions everywhere featuring mostly sports.

It's a great place for the whole family and very popular locally.





Contact and/or Location Info:

5207 Essen Lane
Baton Rouge, LA 70809
(225) 767-3339
See Location On A Map


Website Available: Times Bar and Grill
Best of Baton Rouge Category: Baton Rouge Restaurants


Originally posted 01/30/2007 by Wayne Odom





View Larger Map
See Detailed Google Map